---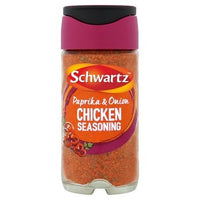 Schwartz Chicken Seasoning is a handy pot of powder that will transform your chicken dishes!
This chicken seasoning contains paprika, onion and cayenne pepper. It can be sprinkled on chicken pieces or alternatively you can rub into the skin of a whole chicken before roasting.
You will be impressed by the flavour of your cooked chicken and reach for this seasoning whenever chicken is on the menu.