---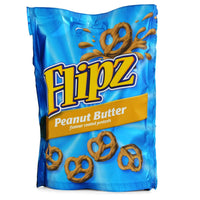 Flipz Stuff'D are bite-sized pretzel nuggets stuffed with creamy peanut butter and coated in sweet milk chocolate.

It's double the flavor in each poppable bite and the perfect balance of salty, sweet, and crunchy that is known from Flipz!

The Flipz Stuff'd consists of nub-shaped pretzels that are covered in milk chocolate and stuffed with peanut butter. We can only imagine that when you bite into one, you'll get a burst of creamy peanut butter — which has to be amazing, right?