---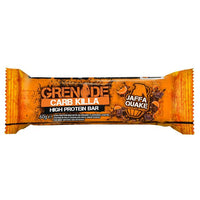 Triple layered and deliciously crunchy, you'll find it hard to resist Grenade Carb Killa Jaffa Quake Bar! Each 60g bar contains an impressive 23g of protein with a mere 2g of sugar – the complete opposite of your average chocolate bar.
Treat yourself to one of these high-protein bars when you're feeling a little hungry at work, need some re-fuelling post-workout or whenever you fancy a little and nutritious snack. Each bar provides you with top-quality protein to help muscles after a workout.
Every Grenade Carb Killa® Protein Bar is baked using a special process for an unbeatable crunchy yet soft texture. Crunchy 'crispies' have been scattered throughout the triple layers and tasty milk chocolate covers the whole bar. Its low sugar content makes it the perfect guilt-free, high-protein snack.
Enjoy these delightful high protein bars when those mid-morning munchies arise, as post-workout fuel, or simply as a guilt-free treat. They provide you with protein to build your muscles after a workout.
Delicious chocolate orange flavour high protein bar with crispies
Low sugar (2g per bar) and high protein (22g per bar)
Packed with tons of fibre - and flavour!
Not suitable for vegetarians